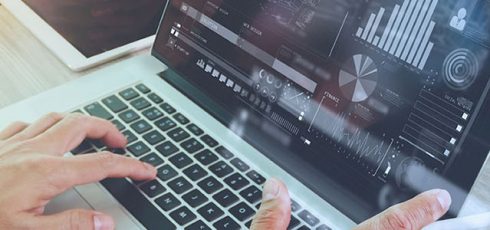 Investment Commentary
By Angela Cooper
April 18 2019
Since the New Year, equity markets have rebounded from their pre-Christmas lows with some strong returns in sterling terms. In December, negative sentiment was in abundance as concerns continued about the impact of trade tensions between China and the US, global economic growth appeared to be slowing and the growth of US mega-tech companies, particularly Apple, seemed to be waning with warnings over future earnings. Over January, investors have been more optimistic about the prospects of a US/China trade resolution, whilst the US Federal Reserve (Fed) has kept interest rates on hold with rhetoric implying that the US interest rate cycle will now be paused, against a background of equity market volatility and the possibility of economic growth tailing off. The uncertainty surrounding a Brexit deal has led to ongoing weakness in the UK equity market although the main equity market did perform well over January. Sterling has strengthened of late on the prospect of some sort of deal being agreed with the European Union rather than a 'no deal'. We expect volatility to continue in world equity markets as these issues causing concern still remain unresolved. However, this period does underline the fact that it is impossible to time markets.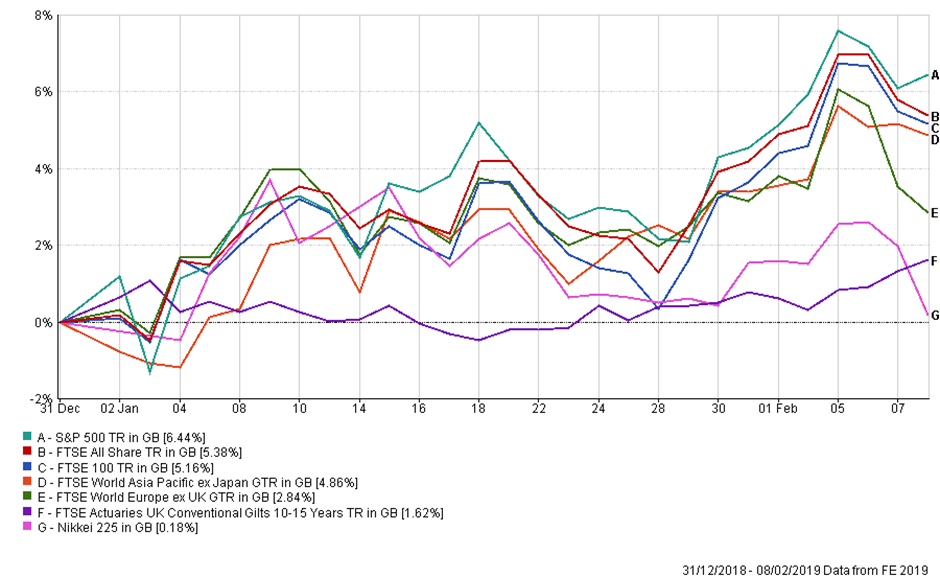 UK
UK Gross Domestic Product (GDP) grew 0.2% in the last quarter of 2018 with growth for the year at 1.4%, the lowest since 2009. Figures were held back by car manufacturing, steel production and construction. Consumer spending fell 1% pa in December. Inflation is at a two year low of 2.1% so is very close to the Bank of England's (BoE) 2% target. Consequently purchasing power should increase as wages are growing at an annual rate of 3.3% which should help the economy. Currently, there appears to be no incentive for the BoE to raise interest rates with no change to rates at the Monetary Policy Committee's latest meeting. Uncertainty over Brexit persists, with Mrs May intent on reopening negotiations over the Northern Ireland backstop if she can. The slowing UK economy also reflects sluggishness globally. The value of sterling has been volatile as investors assess whether a hard Brexit is likely. The number of people in work in the UK has reached a record high of 32.54 million. Unemployment was flat, with a small increase of 8000 between September and November, to a total of 1.37 million. The number of job vacancies rose by 10000 to a record high of 853000.
Europe
Economic news from the Eurozone shows weakness in the economy with the region growing 0.2% in the final quarter of 2018. Growth is now at its lowest level in four years. The Italian economy fell into recession as it contracted for a second quarter in a row. The European Central Bank (ECB) downgraded its assessment of risk to growth. The region, in particular the export-led German economy, has been profoundly impacted by slowing Chinese demand as well as ongoing US/China trade tensions. In addition, the prospect of a hard Brexit is also weighing on exporting European economies. The ECB has signalled that the bank will take action if evidence points to a prolonged slowdown. On a positive note, unemployment in the Eurozone reached a decade low of 7.9% with Germany's rate at 3.3% and Spain's at 14.7%. Inflation fell to 1.6% in November.
US
At its most recent meeting at the end of January, the Fed left interest rates unchanged at a range of 2.25-2.5%. The Fed indicated it would take economic and financial conditions into account when setting interest rates and would be "patient as it determines what future adjustments to the target range for the federal funds rate may be appropriate". Previously, a gradual rise in interest rates had been indicated. The Fed also stated that it would consider more quantitative easing in the future if economic conditions warranted looser monetary policy. This more dovish stance is a significant move away from the Fed's December position. There could now be perhaps one more interest rate rise this year in June as the US economy is expected to benefit from fiscal spending and lower oil prices. The US dollar has fallen on the back of these expectations. Recent economic data including employment and manufacturing figures show the US economy continues to remain solid despite the Government shutdown over December and January. Optimism persists that the US and China will eventually reach an agreement on trade. Earnings reports have been mixed as manufacturers such as Caterpillar which sells into the Chinese market, have been impacted by the slowdown in China. Amazon forecast lower than expected earnings in the first quarter. In contrast, Exxon Mobil and Chevron issued positive earnings news and Facebook reported bumper profits.
Commercial Property
The industrial sector was the best performer in 2018; there remains strong demand for UK industrial property, in the shape of 'big box' warehouses required by online retail giants such as Amazon. Increasing demand for smaller warehouses for 'last mile' delivery is also likely. London office space deals soared in 2018, perhaps against expectations. The majority of the investors were from overseas as the weaker pound and high quality assets proved attractive; tenants wanted to expand and upgrade their office space. However, rental growth is expected to slow in industrial and office sectors. The retail sector remains challenged with continued expansion of online shopping.
Emerging Markets
Emerging markets equities out-performed developed markets in the most recent period of global equity market volatility. Certain markets have performed well, most notably Brazil. The pause in the US interest rate hiking cycle and a weaker dollar has been beneficial for emerging markets. The Brazilian equity market has performed well in the aftermath of the election of President Bolsanaro. Industrial and financial sectors, in particular, made strong returns as the economy continues to recover and there are hopes for a market-friendly reform agenda from the new government. Economic output in Brazil continues to expand whilst inflation is falling. In India, trade and inflation figures have improved in recent months with the trade deficit narrowing sharply. Emerging markets remain the main global growth engine and their contribution is only set to increase over the next five years, according to statistics from the International Monetary Fund (IMF). India is predicted to grow its contribution, whilst China remains the largest contributor – though its contribution is projected to remain stable. The contribution from Latin American economies is likely to grow marginally.
Asia Pacific
Trade tensions between China and the US continue to impact on the wider region. South Korean figures show exports falling 5.8% in January and its manufacturing sector contracting. Taiwan, which exports heavily to China, also saw its manufacturing sector activity fall as its exports declined. The Chinese manufacturing index showed contraction for the second consecutive month, indicating the economy continues to slow. Official figures show the Chinese economy growing at 6.6% pa in 2018, the slowest rate of growth since 1990. The Chinese authorities appear to be taking steps to support the economy with construction projects being brought forward, tax cuts and a reduction for bank reserve ratio requirements. Asia Pacific equities and currencies benefited from the news that the pace of the US interest rate hiking cycle is likely to be much slower. Companies can benefit from lower US dollar funding costs. The Bank of Japan has kept interest rates on hold and lowered its 2019 inflation expectations. It maintains a relatively loose monetary policy as it continues to buy Japanese Government Bonds. Core inflation is expected to rise between 1% and 1.3% so below its 2% inflation target. Japanese exports shrank at the fastest rate in two years as the slowing Chinese economy impacts. Japanese industrial production also fell as did manufacturing sector indicators. The Japanese government is going ahead with a rise in consumption tax from 8% to 10% in the autumn. In the hope of avoiding a recession, the government has announced a series of tax breaks for housing and cars. The revenue from the higher consumption tax is earmarked for reducing the budget deficit and raising funds for education.
Fixed Interest
Global bond markets rallied after the Fed signalled that it would pause its interest rate hiking plan in 2019 due to the global economic slowdown, lower oil prices and lower US inflation. It appears that interest rates in the US, UK, Europe and Japan are not rising significantly any time soon. Demand for bonds has increased as investors search for yield. Therefore bond issues, even from peripheral European countries such as Portugal and Greece, have been in demand. Corporate bond spreads widened amid concerns over a slowdown in global growth, China-US trade tensions and weak oil prices. The recent market jitters have provided a reminder that volatility is alive and well in fixed interest markets. Macro-economic concerns such as the state of key economies, the US/China trade talks and Brexit political uncertainty are likely to pose a challenge. However there is some value in investment grade corporate bonds.
Our View
Mainstream economic commentary is focussed upon the outlook for sovereign entities – individual countries such as the US, or economic blocks such as the EU. Readers are inevitably interested in comparing their national lot against that of international friends and rivals; the statistics make good copy.
For the investor, the continual commentary at 'global' or 'sovereign' macro level, obscures the 'truth' that equity investment is about corporate entities which if 'large cap' are usually 'regional' or 'global' business operators with their operations rarely confined to one country. For smaller companies, the domestic 'macro' picture MAY be more important because such companies often focus their activities on their domestic markets.
The global economy is growing more slowly creating a gentle headwind against which global companies must battle, if they are to thrive. Some sectors are more vulnerable than others, in most mature markets there is the gargantuan battle between 'online' retail merchandising and traditional high street shops, for example. Some stores will prosper, some online businesses will grow massively and some of both will fail. An investment fund manager's role is to make the judgement call in this space, alongside the many others that make up their portfolios, which are in turn representative of their mandated areas of investment.
Ideally, a fund manager will buy into an under-valued company with high immediate growth prospects. Alternatively, he/she may buy into a giant company with a mature business that will only grow slowly. Under-valuation may mean buying the dividend/ profit streams relatively cheaply and therefore on a high yield. The danger is that fund managers make mistaken or misguided judgements as to future prospects so pay too much for companies whose share prices are likely to fall with little short/ medium term prospect of recovery. Marks & Spencer plc is a good example, a dominant High Street retailer with £1bn pa in profits and £18bn market cap over 20 years ago. Since then, profits have halved and market cap has been below £5bn. For those who bought the shares at their peak, recovery of capital losses is a distant prospect (if ever), but dividend payments will have compensated to some degree. For those buying later at a much lower price, returns from this behemoth may have been quite attractive at times if not on the basis of a long-term hold. When to sell a position is a critical question.
Market conditions are now more volatile with investors quite certain that a relatively benign 'macro' period has ended. This makes stock selection even more important and that is where good active fund managers have every opportunity in which to shine. There are undoubtedly some value opportunities to be exploited but some 'value traps' too – companies whose shares appear inexpensive but for sound long term reasons.
Trade tensions will not kill global trade but they can distort trading patterns, lead to inefficiencies and to a reduction in volumes. Economic orthodoxy is rightly pro 'free-trade' in our view, but we should not forget that at corporate level, there can be 'winners' from the distortion of free and fair markets too. Protection of intellectual property is desirable in terms of longer term global outcomes but that does not prevent aggressive competitors profiting from its theft, if able to do so with impunity. Disrupted or distorted trading patterns benefit some, at the expense of others. Until investors can judge 'winners' and 'losers' the prospect of distortion merely provokes nervousness and investors strongly prefer certainties over mere 'opportunities'.
Politically, we have rebellion against the established global economic order with President Trump, Five Star in Italy and Brexit merely examples of this phenomenon. Major exporting economies running large trade surpluses potentially have most to lose in a more hostile environment for global trade but many of the companies concerned will be global operators, able to shift production and earnings as the need arises. Companies are distinct from their countries of origin or residence being far more adaptable and responsive when well managed. Good quality management is a further key differential which fund managers must assess when reaching investment/disposal decisions.
The current calendar year is a less certain one for investors but there remain numerous sound opportunities against the background of a global economy still growing albeit at a more modest rate currently. On our clients' behalf, we need to exercise more caution than usual in protecting gains against downside risks, without closing down attractive, longer-term opportunities.